Youth Weekend Away 2018: a Spiritual and Personal Challenge!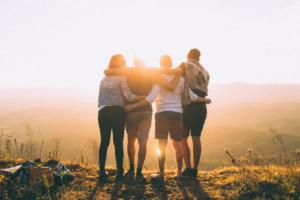 On 18th-20th May, members from our Parish Youth Club attended the Kensington Area Youth Weekend Away, organised by the Area Diocesan team. The weekend was full of fun, with opportunities to hear and respond to the gospel, time to join in group activities with other young Christians from across the area, and chances to overcome personal challenges.
The weekend's theme centred around Peter and his life story, his transformation to faith through to his denial of Jesus and his life beyond. Such a focus meant Youth Team members were able to share personal testimonies and talks from their own understanding to explain the stories in accessible ways.
Our own Rev. Azariah France-Williams joined the ranks sharing an inspirational talk, which was definitely spirited. His talks, and those of others, joined with worship and time for prayer, meant a great opportunity for all young people to get to know Jesus and learn more about our faith.
Alongside this, good opportunities for fellowship were provided as youth members had multiple chances to interact and communicate with youth members from other churches. This was a great time for new friendships to be formed, as well as for existing ones to be strengthened and developed. These friendships proved essential, with young people being encouraged to overcome personal challenges
and succeeding as a result.
As a leader, this time was immensely valuable, enabling me to see a new side to each young person. It will definitely influence my own practice at the club and my approach to meet the needs of all attending it. I want to thank each member of the church for their prayers leading up to the weekend, which was an all-round success and certainly a considered highlight of my year.
Matthew Edwards, Youth Administrator, Teddington Parish Youth Club.