Welcoming our new Associate Priest at his Licensing
The Reverend Azariah France-Williams has been appointed Associate Priest to the Parishes of Ss Peter & Paul and St Mary with St Alban. Azariah and his family will live in the Vicarage at Ss Peter & Paul, and he will primarily minister from that church, but will work with Joe and the clergy team at St Mary's in developing mission and ministry across both parishes.
He will be licensed as Associate Priest by the Bishop of Kensington, The Right Reverend Dr Graham Tomlin, at a special service at Ss Peter & Paul on Wednesday 20 July at 7.30pm. A reception in the church hall will follow.
Here Azariah introduces himself and his family: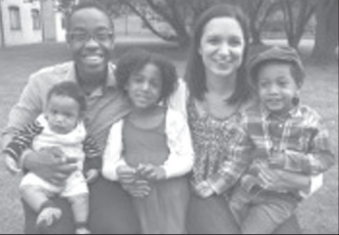 "I believe in the liberative power of the gospel to restore that which is lost. For the past six years I have served as Curate then Priest in Charge at St Francis on the Dalgarno housing estates, North Kensington. This showed me how the incredible abundance within a community can be suppressed by society. My message to the Dalgarno community was to access their own God-given agency to affect change for the collective good.
I grew up in a tough urban setting in Leeds, West Yorkshire and have been in ministry my whole working life, in a variety of contexts. The resilience and faith I witnessed in my mother enabled me to achieve three theological degrees. It has also supported my journey as a part time lecturer and developed my hobby of creating podcasts which are fuelled by my love of storytelling and writing.
I have Citizenship of both the UK and the Island Federation of St Kitts and Nevis. One of the common images of Caribbean culture is the limbo bar where the competitor gets progressively lower and lower by leaning backwards under a bar without falling.
The limbo bar was instituted after the abolition of slavery so the symbolism is rich and the message is powerful: whatever challenges threaten to lower our moods, our motivation or sense of meaning, we will not fall but will stand back up. This theme of resilience under pressure, powered by faith has been a core theme of my parents' lives. It is a message I seek to embody to those I minister to in a variety of contexts.
This September my wife, Anna, and I celebrate our tenth wedding anniversary. Over that time we have welcomed three children into the world. Eliana (6) a deep thinker and energetic sportsperson, Micah (4) a playful, social, lover of diggers and motorbikes, and Rafael (1) a foodie who is both affectionate and a lover of soft materials.
We greatly look forward to moving to Teddington for what promises to be an exciting new chapter in our lives."