Wartime Reminiscences on 75th Anniversary of VE Day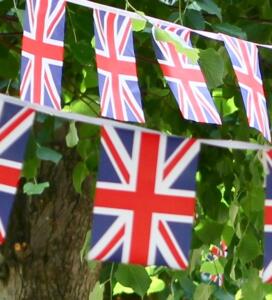 Teddington Parish's planned drama and church service to mark the 75th anniversary of VE day on Friday 8 May will have to wait until later in the year. However, we are marking the date in several ways.
Reminiscences
Firstly, our wonderful playwright Cathy Randall has collected some stories from the oldest members of our congregation which you can read here. If you have reminiscences you'd like to submit, please email Cathy on crr1@btinternet.com.
The Teddington Story
Secondly, Robin Field-Smith has collated the following information showing how Teddington was affected by the Second World War:
Parish records at St Mary's give the names of 132 people who served in the Armed Forces during the Second World War. Of those, the following died on, or as a result of, active service, but their names do not currently appear on any local memorial:
Nelson BEARD
Peter Charles BURGESS
William COCHRANE
Herbert DAWES
Alan DILNOT
Charles Reginald GALLOP
Sidney George GALLOP
Albert Edward GREGORY
Peter HOLDER
Herbert Merry LE-PLASTRIER
Dennis KING
Edward PHILLIPS
William John Boston WADIE
At home in the Teddington and Twickenham area, as a result of enemy air attacks, about 500 houses were destroyed and over 32,000 damaged. 143 civilians were killed and nearly 500 had to be rehoused locally.
Key dates to recall were:
29 November 1940 – 130 bombs and over 4000 incendiaries were dropped, resulting in 74 people killed, 150 houses destroyed, especially in Church Road, including the Baptist church, and Walpole Crescent.
25 February 1944 – 45 bombs dropped in an effort to destroy NPL and the recently constructed US base in Bushy Park, but targets were missed and bombs fell on Fulwell golf course and Hampton Hill.
17 April 1944 – 900 tons of HE dropped on London and about 1200 civilians killed. A Teddington resident recalls: "I fear London is having a dreadful time. The roar of planes has never stopped since nine last night, and guns have been busy nearly all the time. There are huge banks of red smoke all over the east in an otherwise clear sky".
From June 1944 V1 flying bombs started to land indiscriminately. As a result 7,000 women and children were evacuated from the borough in July.
5 July 1944 – a V1 scored a direct hit on Teddington Film Studios killing the production manager, 'Doc' Salomon. The peripheral blast damaged the two east facing windows in St. Mary's.
Early 1945 – the only V2 to land in Teddington left a crater 12 metres wide and 3 metres deep at the rear of Fairfax Road.
As the hostilities ended in 1945 that same resident observed: "Teddington is a disgrace and looks more so in the sunshine. More and more empty shops and if they have not been shocked by bombs they are left in a mess". Nissen huts were erected in Little Queen's Road as temporary accommodation for those who had lost their homes.
We should not overlook the 10 names from WW2 which are inscribed on the war memorial outside St Peter and St Paul church, which include two families killed in the bomb raid on 29 November 1940:
Walter BUTT
Geoffrey ENGLISH
Kathleen, Michael and Paul RUMBLE, from Walpole Crescent
Donald, Edward and Winifred SYKES, from Church Road
Peter WILLIAMS
Herbert YARDLEY