War Memorial Rededication on 3 November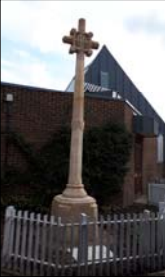 The St Peter and St Paul War Memorial stands on the corner of Church Road and Bychurch End. Originally outside the Victorian parish church on the west side of Church Road, it was relocated to the garden of the present church, constructed 1979-80, and moved to its present position in 1992.
On a square plinth beneath a stone cross are inscribed the names of 82 parishioners who died in World War I (some now illegible) and the words "They endured as seeing Him who is invisible. May they rest in peace".
The memorial has recently been conserved by stonemason Andy Chalk, with a 75% grant from The War Memorials Trust. It will be rededicated by the Ven. Stephan Welch, Archdeacon of Middlesex, at 11.30am on 3 November. Tea and cakes will be available from 10.45am, with a chance to talk to Andy about the repair.
Please do come along and, if possible, make a donation, towards the repair fund.