Vicar's Viewpoint – October 2018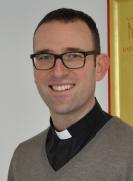 It's hard to know how to describe our 9am service. Most people, when coming for the first time, leave a little bit surprised, saying something like, 'That was lively, vicar!' There's certainly quite a buzz, as you'd expect when we regularly get around fifty young children worshipping with all their enthusiasm. Occasionally the buzz borders on a cacophony. But usually it is a joyful, uplifting experience as the children share their infectious exuberance.
It turns out that the 9am service is something of a success story that other churches want to find about. This month, my colleague Mary and I have been invited to speak about it at a national conference. This has made me reflect on what makes it work.
We should first acknowledge the incentive that our church school admissions policy provides for encouraging church attendance. But we've noticed that families are attending more frequently and for longer than is necessary to simply get a school place. Something else is going on.
Timing is important. 9am sounds early but most families with young children have already been up for a couple of hours. And it enables them to go to church before going on to sports clubs or days out. Keeping it to 30 minutes is also crucial, so no-one's patience runs out!
Then there's the format which is aimed at maximizing participation: children being invited to help ring the bell, light the candles, give out service sheets, take up the cross and Bible and take round the collection bags. We use well-known hymns (a mix of traditional and modern), a bible reading, an interactive talk, simple prayers and a blessing at the end. Sticking to the same pattern each week (with a slight variation on the second Sunday of the month when we include communion) enables children and adults alike to quickly become familiar with our worship.
A sense of belonging and being part of a community is another key factor, often mentioned by parents who want their children christened. It's great to see families getting to know each other and becoming increasingly involved in the wider activities of the church. Also, allowing families to worship together, staying in the pew rather than sending children out to Sunday School, is increasingly important when working parents get limited time to spend with their children. It's notable how many dads come.
Finally, there's a basic desire among parents to nurture children in a caring and worshipping community that teaches them Christian values and draws them into a relationship with God. This is ultimately what we aim to do. And this term we are focusing on a particular Christian value each week (eg compassion, justice, forgiveness).
Perhaps you'd like to come and see for yourselves? It's not just families who come, there's a surprising number of elderly and single folk as well. All are welcome. Just don't come expecting silence!
Best wishes,
Joe