Urgent appeal: Floods in Mozambique
We have had an urgent appeal from our link diocese of Niassa in Northern Mozambique where there is extremely serious flooding.
The Diocese of London (through ALMA – the Angola-London-Mozambique Association) wishes to send a minimum of £5000 to Niassa this week so we can be alongside them in the immediate flood relief efforts.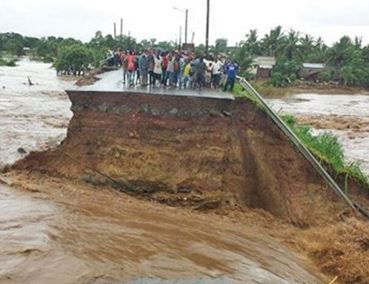 If you feel moved to donate, please do so as soon as possible online: https://my.give.net/AlmaFloodAppeal
There will also be a collection basket for donations on Sunday.
What's happened:
The Licungo River has had the worst floods since 1971 with two major bridges on the major national road -the EN1- collapsing and halting north-south movement. Electricity is out in many places as the torrential rains have knocked out 10 pylons. The Zambezi river has also risen above flood alert levels. Ten of thousands of people are displaced as they seek refuge on higher ground.
How we can help:
The Diocese of Niassa is experienced in flood relief work and supported by partners including Tearfund, World Renew, ALMA and MANNA will deliver kits to families made homeless by the floods which includes: maize, kits of seeds, water treatment and mosquito nets with each kit costing about £35.
Of the $53,000 dollars needed  to achieve this $30,000 has been pledged. ALMA is looking to raise £5000 or $7500.
More information on the floods:
BBC news http://m.bbc.com/news/world-africa-30821256
SRN News http://www.srnnews.com/10-people-killed-thousands-displaced-in-mozambiqu…