The Moffat Family's Visit to India: South India TRUST Children's Home
The Moffatt family travelled around India for six weeks in the summer. During this time they spent a week in a Children's Home near Tirunelveli in Tamil Nadu.  Here's an excerpt from their blog (
www.moffsontour.wordpress.com
):
Our last day at TRUST was even more action-packed than the others. We woke up at 6am in order to spend time at the Girls' Home before they went to school. Hanging out with the children has been our most enjoyable activity of the whole trip, so it was good to get a final couple of hours with them, as well as seeing their breakfast routine (large portions of curd rice), school uniforms and large rucksacks. Evie and Daniel have been brilliant at learning almost all of their names.
We then went to witness the bore-hole drilling that Thiru (Dr P. Thirumaran, the TRUST Director) had hastily arranged. A couple of days ago we began to discuss how to spend the £1,300 we raised at our church cake-sale. We had been told about the aspiration to build a library, but this has already been completed due to a local benefactor. So Thiru suggested two priorities, an extra bore-hole for the Girls' Home, and repairing the ambulance that he uses locally to help the elderly and sick. While we could see the desirability of the latter, we opted for the former because the money was given specifically for the children's home. Thiru is a great believer in guests and benefactors being honoured by a full and public acknowledgement of their gift, so he wasted no time in getting the bore-hole trucks on site, and a photo opportunity just before the school bus whisked the girls away.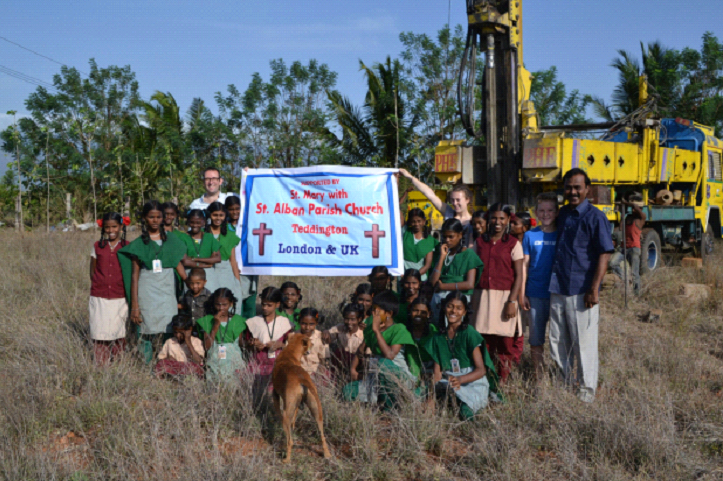 The huge drill took three or four hours to hit water at 400 metres, and continued to a depth of 600 metres, which will provide a significant boost to the water supply. It was fascinating to see the machine in action.
Our meals have been amazing. Shanti has worked tirelessly to produce a huge range of both savoury and sweet delicacies. After a very substantial breakfast and a bit of packing, we donned the new shirts and saris that Thiru had generously given us, and got tailored. This was followed by a few more presentations of volunteer certificates for Evie and Daniel with various local visitors (Thiru has an impressive ability to 'hold court', both with his conversation and his networking!).
Then we went back to the primary school for final 'lessons' (we managed some dramatic versions of the Good Samaritan) and farewells. With a final treat of spicy fried fish and samosas for lunch, we bade a fond farewell to our amazing hosts. Thiru and Shanti are an inspiring couple who have given their lives to building up a remarkable set of social projects to help the most needy in their locality. We have been hugely privileged to spend time with them, and to be treated as honoured guests.