The Chinnery Plaque and Window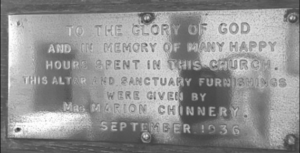 To the right of the altar in St. Mary with St. Alban is a plaque stating that the altar and sanctuary furnishings were given by Mrs Marion Chinnery in September 1936. But who was she, and was she related to the Mary Chinnery, 'beloved wife' of Walter Moresby Chinnery to whom the window on the west wall is dedicated?
This was one of the interesting questions raised during the present Church Recording project, which is progressing well. The answer is that the two women were sisters in-law. In 1871 brothers, Walter Moresby and Henry Joseph Chinnery, were living at Oxford Villas off the High Street. After Walter's marriage in Teddington in 1871 to Mary (nee Dixon), who was born in Teddington, the couple moved to Fairlawn, Broom Road. She died at Rose Hill, Hampton
in February 1880, aged 29, hence the window.
Marion was the wife of Henry Joseph Chinnery, Walter's younger brother. She came from Norfolk, but she and Henry lived here and their two children were born in Teddington. From 1877-99 they lived in, or owned Weir House, Broom Road, before moving to Buckinghamshire. Marion donated the furnishings two years before she died aged 87.
The brothers were successful stockbrokers, and had a national reputation as athletes…Walter being the 'Sebastian Coe' of his day. They were also philanthropists, and St. Mary with St. Alban benefitted from their generosity.