Successful Visit by Muassite Miguel of New Missionary Diocese of Nampula, Mozambique
Suzie Gordon recalls: "The beginning of July provided me with one of the most eye opening and interesting weekends. Joanne Beale stayed with us on the Friday night as she knew Muassite and had helped to organise her visit and early on Saturday morning we went to Heathrow to collect Muassite.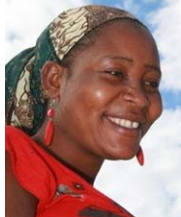 This was an awakening experience for her, as she had never been on an international flight, doesn't speak English and had to change flights in Johannesburg. As we left Heathrow her eyes opened wide at the sight of all the people, cars and aeroplanes.
Arriving home, I was humbled by her amazement at our toaster, electric kettle and hoover – all things we take for granted! We hosted a tea that afternoon for members of the congregation and other churches involved with Alma.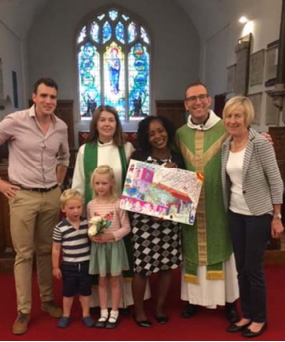 Sunday was a busy day for Muassite; taking part in the 9am and the 10am services, with Joe asking her questions and Joanne giving excellent translations from Portuguese.
The Sunday school children presented her with a picture they had produced of the church and Muassite was able to give us an insight into the challenges that the people in Mozambique
face on a daily basis, not least walking miles carrying a pitcher of water on their head and a baby on their back.
That afternoon Joanne and I took her on a train up to Waterloo and then walked along the Embankment and over the millennium bridge to St Paul's, with Muassite being amazed by all the people and tall buildings.
Before the sung eucharist at St Paul's we had tea in the nearby courtyard at St Vedast's church with other members of Alma, Bishop André Soares, Bishop of the missionary diocese of Angola and Bishop Rob, the bishop of Edmonton, who is also the bishop involved with Alma.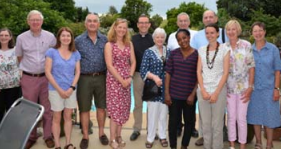 Joe joined us for tea and took part in the service, with Bishop Rob asking the Bishop of Angola and Muassite about their work and lives.
Muassite's visit to Teddington ended with a visit to St Mary's and St Peter's school with Joe and Carla Maroussas, followed by a visit to Tearfund.
It was an incredible 48 hours in the presence of such an inspiring and interesting person. I am sure that it will have helped to develop our links with the church in Pemba as their people rebuild their lives after the shocking devastation from the cyclones.
The £1,477.93 raised on the Sunday morning that Muassite visited our church, will specifically go towards the rebuilding of the Chimoio School, near Chiure."