St Mary's and St Peter's remains an Outstanding Church School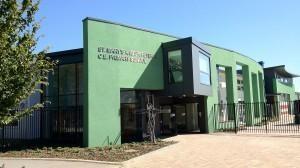 In June, St Mary's and St Peter's School went through SIAMS (Statutory Inspection of Anglican and Methodist Schools), an inspection under Section 48 of the Education Act 2005. It evaluates the distinctiveness and effectiveness of the school as a Church school, and how well its distinctive Christian character and ethos ensures the development and achievement of the whole child or young person.
The inspector was in the school for a whole day, talking with children, parents, staff and governors. She observed collective worship and some RE lessons. It was a very thorough, probing process.
We are delighted that St Mary's and St Peter's has been judged outstanding as a church school. The inspector was very impressed with how children, staff and parents were able to talk about the school's Christian values, and the evidence that these really make a difference to the life of the whole school.
This is a real tribute, not only to staff, but to the whole school community. We are delighted that our children are receiving an education which takes their spiritual development seriously and helps them to flourish.
Rev Mary Hawes, Chair of Governors