Artists Invited to Apply for New Glass Installation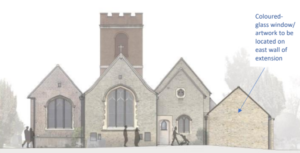 As part of our Building Anew project, we're inviting artists to design a significant new glass artwork for the east wall of the new extension. The extension will provide much-needed facilities for our community and the artwork will be visible from inside the new extension and form a key feature facing the churchyard.
We'd love to receive initial responses to the brief from as many artists as possible by 14 November. We'll then offer a shortlist of candidates an honorarium to come up with an initial concept before final interviews in early December.
While the indicative budget for design and production is £10,000, the creation and installation of the work is subject to planning permission and subsequent fundraising.
Please click here for full details of the brief and share this story with any artists you know.