Pemba Welcomes Archbishop of Canterbury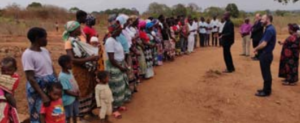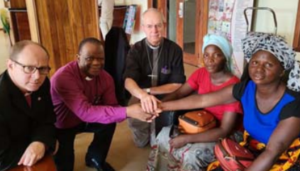 November saw wonderful celebrations, with singing and dancing for the Archbishop of Canterbury, who visited Mozambique with Bishop Rob, Bishop of Edmonton and ALMA, together with John Tasker, Chairman of Manna and Twinning Officer of Alma.
The visit started in Maputo for the inaugural celebrations of IAMA (separate Portuguese-speaking Province of the Anglican Communion) and the installation of the presiding Bishop Carlos Matsinha. The 4 ½ hour long service was full of singing and dancing!
In Maputo, the Archbishop met religious leaders who co-ordinate the interfaith peace club network and released some white doves. After that it was Pemba with Bishop Manuel, from Nampula and Muassite Miguel, (both of whom have visited us), for a Eucharist with Archbishop Justin presiding and preaching. From there it was on to our link church of St Mary Magdalene to meet the congregation and their Muslim neighbours. John Tasker presented their priest, Father Francisco Bulaque, with an Aspergillum (for sprinkling holy water), an Easter Candle and various gifts from our parish, all gratefully received.
Bishops Manuel and Rob, and John Tasker then visited a Government Refugee Camp to meet displaced people. They agreed that trauma is clearly the biggest issue. Finally they went to Chimoio to see the bore hole we funded with Manna, which has enabled them to grow bananas and other crops.
The school is still being constructed and there are plans for a health centre. Bishop Rob and John Tasker will visit us on Sunday 19 March to tell us about this ground breaking trip to a much troubled area.