Own a Piece of the Action from The Teddington Review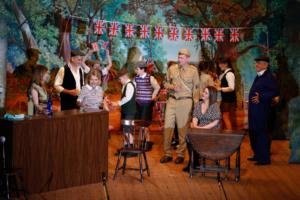 We are very grateful to local writer, Catherine Randall, for penning this brilliant script, and if you missed out on tickets for The Teddington Review (11 November at Normansfield Theatre), you can now purchase photographs and video recordings of both the matinee and evening performances.
A written account of the Review by Patricia Raffetto, published in the January 2018 Parish Newsletter, is also available to read here.
The show was held as part of the Teddington 800 celebrations. It cantered through a light-hearted account of 800 years of history in just under 75 minutes.
The gallery below is a small selection of the photos taken. The high resolution versions of these and hundreds of other photos, together with video recordings of both performances, are available for download at https://events.simonwhitehead.photo/.
Prices are as follows:
still photo download - £3
professional quality print - £5
video downloads - £5