MV Havengore and Churchill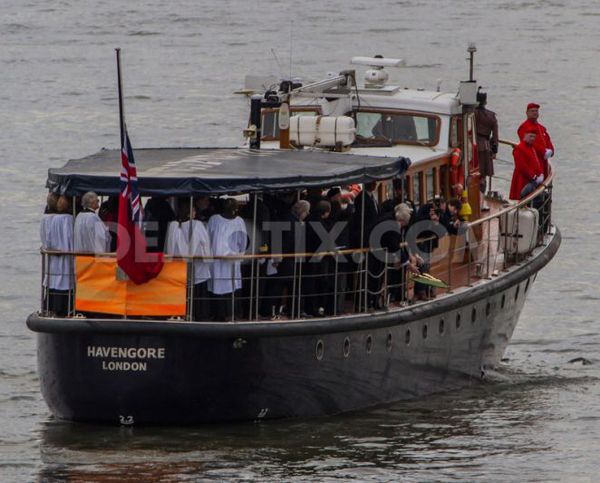 Built by Toughs Boatyard to a design by the National Physical Laboratory the Havengore was launched in 1956 and served as a hydrographic survey vessel for the Port of London Authority until the mid 80s.  One of her earliest ceremonial tasks was 50 years ago when she conveyed  Churchill's coffin upstream from Tower Pier to Waterloo station en route to Bladen for burial.
Havengore might just be a rusty leaking historical footnote had she not been rescued, after decommissioning,  from a lonely estuary mooring by a private individual in 1977 who set about restoring her to her former glory.  Her current owner, Chris Ryland has spent the last 10 years completely refitting this elegant launch and Havengore now takes a full part once again in the ceremonial life of the River Thames.
The proud Teddington connection led to an invitation to St Mary's to provide a choir of 5 singers to join 40 other invited guests on board Havengore for the 50th anniversary re-enactment of Churchill's funeral voyage which culminated in a 20 minute service rocking gently mid-stream opposite the Palace of Westminster and the gentle casting into the river of a laurel wreath surmounted with a golden V for Victory which had been specially made by the Royal British Legion Poppy factory in Richmond.
The service was simple and moving, punctuated by a bugler playing The Last Post and Reveille either  side of the National Anthem but the mood lightened discernibly with a lusty rendition of the Battle Hymn of the Republic (Churchill's mother was American).  Singing heartily Glory, Glory, Hallelujah, is a good way to warm up when you have been standing on deck for over an hour in an icy wind.
After the service we choristers were invited below decks and rewarded with hot rum punch, sausages and mash and apple pie and custard before disembarking back at St Katharine's Dock.  It was a day to remember for us all – we were proud to be there and to be able to represent our parish church for such a public event.
Chris Miller, Colin Davies, Emily D'Silva, Susan Jacobs, Margaret Squire