Join Us for War and Peace Evening at SPSP on 7 November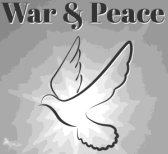 On 7 November at 7pm join us at St Peter and St Paul church for soup, stories, and songs on the theme of War and Peace. Rosalind Georgeson from Dragon Drama, will lead the storytelling on these evocative themes.
St Mary's College Chapel Choir will sing some pieces and we are glad to have Mike Pemberton performing the Ballad of the Little Ships.
There will be true stories on the themes of War and Peace as well as an act of Remembrance.
Donations will be taken towards expenses.