Join our Discussion on Institutional Racism in the Church of England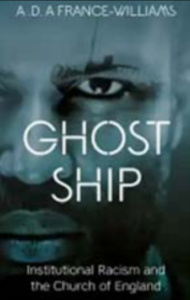 Azariah France-Williams, who recently moved on from St Peter & St Paul's, is the author of 'Ghost Ship', published earlier this summer. It is an important and challenging read about institutional racism in the Church of England. We are keen to explore issues raised and come up with a proactive response, advocating changes in our church locally and nationally.
Caroline Halmshaw and Carla Maroussas will facilitate discussion on 1, 8 and 13 October at 8pm on zoom. The first two sessions will explore themes raised and the final session will be to propose actions. If you would like to join, please email curate@stmarywithstalban.org and carla.maroussas@gmail.com.
If you'd like to buy a copy of the book, you can purchase it here.