Helping St Richard's Hanworth – 2019 Lent Appeal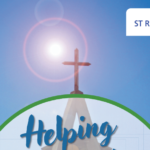 Since its establishment in 1965, St Richard's Church has been a beacon of hope for the residents of Hanworth and north Hampton. With no other community centres in the area, St Richard's has served as not just a place of worship, but as a meeting centre, community gathering place and pre-school for the area and its residents – people of every age, race and religion.
However, those same people are in danger of losing this vital resource for their community. Over the years, thieves have decimated the infrastructure of the church, stealing copper from most of the building's roof and forcing the church to use roofing felt, similar to what is used for garden sheds. St Richard's has persevered in the face of these adverse circumstances, but desperately needs your help to survive – otherwise future generations of its community will grow up without this vital resource.
Project Grow is an initiative that was started to help revive, one step at a time, this beloved community centre and
church. While working towards a long-term goal to raise £1.5m for the revitalisation of the entire building, the
focus over the coming year is securing the funding needed to restore the badly leaking roof. Out of the £300,000 needed for the roof's restoration, £200,000 has already been raised. With the help of all the churches in the Hampton Deanery, they hope to reach their goal in the coming months.
To donate, please use yellow gift-aid envelopes in church, writing LENT APPEAL 2019 on the top.
For information on the Lent Course entitled 'The Mystery of God' being run by Churches Together in Teddington from 11 March, click here.