Hear Our Visitor from Mozambique on 7 July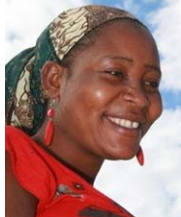 We're delighted that Muassite Miguel, who heads the community development team in our link diocese in Mozambique, is visiting London this month and will be speaking at our 9am and 10am services at St Mary with St Alban on 7 July.
Muassite will give us an update on the damage caused by the recent cyclones (which have been described as the largest climate related catastrophe in the southern hemisphere).
She will also talk about the inspiring work that her team does to address HIV awareness and other issues.
Following the recent success of the Churchyard Teas on 9 June which raised £650 for the Alma Mozambique flood relief fund (thanks to your wonderful baking efforts), we will be raising money to rebuild churches, schools and homes as part of a special diocesan appeal. If you would like to donate please visit: www.give.net/ALMApentecostappeal