Guests Welcome and Volunteers Needed at Elleray Hall Lunch on Christmas Day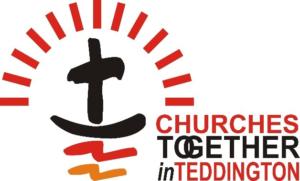 Churches Together in Teddington are again providing lunch on Christmas Day for local people – most of them elderly - who might otherwise be alone at this special time and intend to do this again this year.
Teddington Baptist Church is this year co-ordinating the event on behalf of Churches Together and Elleray Hall Day Centre in Teddington has kindly been made available for use. The continued financial support of the Hampton Fuel Allotment Charity is also most welcome.
Guests
We can take up to 80 guests. If you know of anyone who lives in the Teddington, Hampton Wick, Hampton Hill, Hampton or Twickenham area who would appreciate a meal and company on Christmas Day, please let them know about the event. More than that, please encourage them to get in touch at the contact details below.
Volunteers
We would truly welcome anyone who can assist by:
Providing transport on Christmas Day, whether to the venue delivering them there about 10.45am or taking our guests back home at around 3.30pm (after the Queen's Speech), or both
Setting up the tables and general preparation of Elleray Hall in the late afternoon and early evening of Christmas Eve
Helping in the kitchen or providing tea and coffee from around 10.30 am
Preparing and cooking the food
Greeting and chatting to guests and waiting at tables at lunchtime
Providing music or entertainment
Washing up and preparing bags of food and presents for our guests to take home
Providing things for gift bags – e.g. Mince pies, Christmas cake, Groceries, Chocolate, small gifts (for many people this will be the only gift they receive)
Simply publicising the event to people who might otherwise not find out about it
If you are able to help, please send to the contact details below:
Names of volunteers
Your contact details (phone and email if available)
What hours you would be able to help
For drivers also, please provide your address (so their journey times can be minimised), whether you have a two-door or four-door vehicle, and whether you can help in the morning, afternoon or both.
Contact details
Colin and Elizabeth Hicks
Email: office@teddingtonbaptist.org.uk or cphicks@btinternet.com
Phone: 020 8977 8000 or 020 8977 8406