Fond Farewell to Friends of the Parish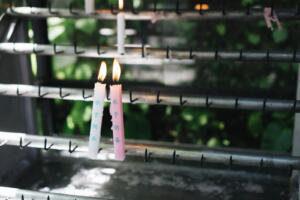 August 2022 saw us bid farewell to two dear friends of Teddington Parish, Jennifer Shaw and Paul Hammond.
Susan Jacobs wrote: 'The sad news of the death, in early August, of Jennifer Shaw, aged 87, brings to a close the life of someone dear to the heart of her family and of the wider parish family of St Mary's worshippers. It was about 7 years ago that Alzheimer's disease began to overwhelm her but in her prime Jennifer was a diminutive but fiercely energetic friend of many. She was our chief flower arranger for years, (many a bride will remember her talents), a musician (singing alto in the choir, and playing violin in the orchestra), an active member of the PCC and a former churchwarden. Elsewhere, she organised groups to work on new church kneelers and cushions, as well as working on them herself. The results are in weekly use and will be treasured for many years. An early Holy Gardener, well before the current team was set up, she was an accomplished Scottish country dancer, a member of Women in Fellowship (formerly Wives Fellowship), mother of four children and the wife (and reasonably successful controller) of our former Verger and general parish factotum Cyril. She was a faithful support for our last three vicars, and an all-round, twinklyeyed, cheerful, hugely hardworking and much valued friend of many. May she rest in peace and rise in glory.'
Carla Maroussas, Churchwarden, also wrote: 'We have just heard the sad news that Paul Hammond (husband of the late Esther) has died. Paul was a friend to many and a long-standing member of our church; working on the PCC, Governance Group and Standing Committee to name but a few. He was also Churchwarden during the early 2000s. Our thoughts and prayers are with his family, and in particular his children, Matt and Katie. He will be sorely missed. May he rest in peace.' Paul's funeral will take place in church on Friday 16 September, 2.00pm.