Farewell to our Vicar and Friend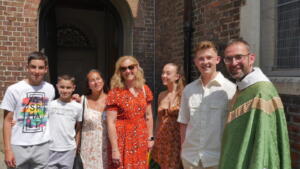 If you singed up for Joe's Institution and Induction Service on Wednesday 7 September at 7.30pm, at All Saints, Kingston, your name will be on the door, on the night.
No tickets are to be issued. 
We look forward to seeing you there.
THANK YOU FROM JOE, who has now moved to his new parish:
Farewells are never easy, not least after 13 happy years of being at the heart of such a fantastic community.  But our final services and the big parish lunch on July 17th were a wonderful way of finishing, filled with thanksgiving, good humour and a tangible warmth of feeling. Thank you to everyone who helped to organise, cook, sing, play the organ, write psalms, poems and speeches and everything else that contributed to such a special day.
We'd like to say a very big thank you for our amazing farewell gifts.  The silver oil stocks (for using to anoint people at baptisms and confirmations and with the sick and dying) are a special gift for my future priestly ministry and will always remind me of my past ministry with so many people in Teddington. The framed photos by Sue Lindenberg are just stunning even when judged by Sue's high standards, and will remind us of the beauty of our local parks. And the very generous cheque will help to buy something special to adorn our new home. Jo, Evie , Daniel and I are all extremely grateful.  We look forward to seeing many of you at the Induction Service at All Saints Kingston on September 7th and hope to continue bumping into Teddington friends for many years to come.
Warmest wishes
Joe
FAREWELL TO OUR VICAR AND FRIEND by Terry Brown
Sunday 17th July 2022 was when the Parish bade farewell to our Vicar of thirteen years. Joe officiated at all three services, in order to say goodbye to all sections of his large and varied congregation. At 10 o'clock he spoke affectionately about his happy and successful time with us, thanking all for the support he had been given. The choir, under the direction of Derek Saunders, excelled themselves singing a wonderful anthem and a version of Psalm 101, with words specialty written by Susan Jacobs.
Then it was over to the Parish Hall for Prosecco and sparkling elderflower, followed by lunch. The more senior among us sheltered from the sun in the Mina Hogan Room. Robin Field-Smith along with his wife, Mary, and fellow Churchwarden Carla, dashed about like a turbo-powered Maitre d' ensuring everything went smoothly. An army of kitchen volunteers, led by Suzie Gordon and Jo O'Hagan, served what Jane Austen would call "an excellent cold collation" of ham, quiches and salad, followed by a chocolate roulade with strawberries.
It is traditional to present an outgoing incumbent with a gift of silver, so Carla then presented Joe with a set of 'Stocks', small silver containers for holy oil together, with a pair of beautiful, atmospheric photographs of Bushy Park by Sue Lindenberg. Joe and his family were also given a cheque which they will spend on furniture for their new home.
Peter Stevens, Caroline Halmshaw and Carla Maroussas delivered affectionate tributes, full of happy reminiscences, sentiments echoed by everyone in the packed hall, and so that we didn't become over-emotional, we finished with an irreverent poem about Joe's time with us. Joe and his family leave with our love and respect. He will be a hard act to follow! May God bless his new mission.