Donate to Fill RUILS Christmas Boxes for Disabled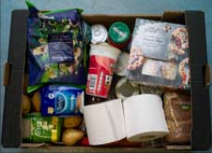 This December, we have a box for donations at the back of church, in support of local charity RUILS who, partnered with Activate, are once again delivering Christmas parcels to disabled people and their families as part of their ongoing commitment to enable independent living. Items requested are essentials e.g. tinned veg, meat, tuna, pasta, rice, toiletries and treats such as biscuits, chocolate, crackers.
Chief Executive, Cathy Maker, explained that everything will be boxed up and delivered on Tuesday 21 December and that the need this year is already greater, with RUILS expecting to give out around eighty parcels, more than double last year.
Please bring your donations by Sunday 19 December to either:
St Mary with St Alban, 9am-5pm, Mon-Sat, or after Sunday services, or
RUILS at 4, Waldegrave Road
For more information, please contact RUILS on 020 8831 6083.