Dire Situation at Pemba in Mozambique
Last month I shared some photos and news of my visit in March to our link parish of Pemba in north Mozambique. Little did I know that just a few weeks later it would be at the centre of Cyclone Kenneth and the worst flooding ever seen in this region. The villages and churches that I visited have been hugely damaged.
Here's a photo that I took of the church school in a remote village called Chimoio with most of their 768 pupils standing in front of their newly built
classrooms.
Sadly, this is what's left: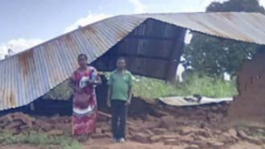 Many families have lost their homes and harvests. So the situation is dire. Thankfully, the diocesan community development team has come to their rescue with food, aid, seeds, mosquito nets etc. This is headed by an inspirational woman called Muassite who was due to visit London in July.

But her own home in Pemba is badly damaged, so we don't yet know whether she can travel. What we do know is that these churches, school and communities are going to need a huge amount of help to re-build.
If you wish to donate, please give via: www.manna-anglican.org
We will also be raising funds during our Pentecost services and Churchyard Teas on 9th June.