Clergy Comment July 2019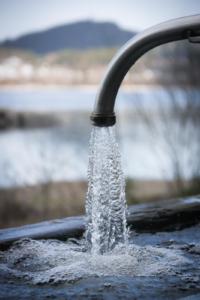 On June 12th a burst water pipe led to the near collapse of our social fabric. Late morning I went to Tesco. I remember my mounting panic seeing Teddingtonians slipping out of the store, multipacks of 2 litre water bottles protruding out of the tops of their bulging bags. I rushed in to discover the shelves which housed the water were empty.
We live in a country where we take water for granted. Twitter was ablaze with complaints targeting Thames Water. My wife Anna works for WaterAid and saw a teachable moment. She emphasised this temporary inconvenience was a tiny taste of the daily reality for so many. I was deaf to
her homily. I was wondering if I could get another flush out of the toilet, or should I find one of the few coffee shops open and use their water, and save
mine.
'Save mine,' did you hear that? It was not mine in the first place. Back in Tesco, I found there was flavoured water on the back aisle opposite the crisps. I bought as much as I could carry. Upon leaving I saw a pal from the parish and surreptitiously pulled him aside saying get to the back aisle to get some flavoured water, as the pure stuff has gone. He nodded appreciatively before heading into the fray.
One description of the gospel is: 'one beggar telling another beggar where to find bread.' In this case water. What or who do we take for granted? Let us develop the practice of recording our thanks, perhaps on the page, and definitely to the people who are there for us, and with us. We never know
when what or who we take for granted, will no longer be there, and the shelves will remain empty.
Azariah France-Williams