Christmas Fundraising Success
From Kristie Woodhouse, organiser of the Teddington Parish Christmas Bazaar and this year, 'No Bazaar, Be a Star':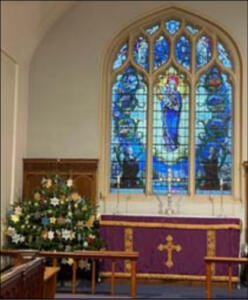 It has been a very strange year for us all and we knew when we started planning the Christmas Bazaar that we were not going to be able to run it in its usual format. The Bazaar is usually not just a critical fundraising event, but also a social initiative to bring the community together. Therefore, we tried extremely hard to create an alternative which could do both things, including a Christmas café idea; but we had to accept that for this year at least we would need to compromise.
Therefore, we came up with the idea of a raffle which could be activated online through donations to the parish website throughout November. Plus, everyone who donated also received their own special star with their name on which was hung on the Christmas tree in church – hence the name!
And thanks to everyone's generosity and that of our fantastic high street providing the raffle prizes, we managed to raise an astonishing £4,600 which, combined with the amazing sales of Plain & Pearl, meant that we raised £5,400. What is incredible about this figure is that it's the amount we generally raise through the bazaar.
We also had some Zoom fun to mark what would have been the day of the bazaar, with a fireside chat with Santa, and tea and cake with the Vicar. Thank you for all your support and amazing donations and Happy New Year!