Bishop's XI Lift the Trophy at Teddington 800 Cricket Match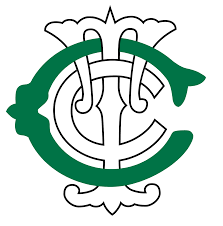 Teddington 800 celebrations march strongly on and in mid-July we enjoyed one of the more exotic, if not even idiosyncratic, of them, when Teddington Cricket Club graciously played host to the Bishop's XI, aka Dr Graham Tomlin, Bishop of Kensington, and a talented bunch of local clergy, including our very own Vicar Joe in a 20 over, evening game in Bushy Park.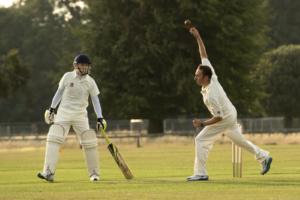 TCC were put into bat and posted a respectable, but by no means daunting, score of 113 for 9. This total included a ferocious six which, if it hadn't hit the pavilion roof, might well have accounted for several spectators, possibly even retired Bishop Martin seated below.
Despite some fast bowling and tight, athletic fielding, particularly behind the stumps, things were beginning to look a bit tricky for the Bishop's XI, especially when Joe's right arm conceded 13 runs in one over. However, he definitely redeemed himself in the very next over by seeing off TCC's top scorer with an excellent catch at cover point.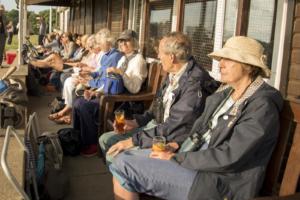 At the break the 50+ partisan crowd set about their Pimms, barbecued goodies and picnics and discussed tactics for "Round 2" – discussions much aided by reference to the meticulous work done by young Joe Studholme in the scorer's box.
Perhaps the appearance of a warming, setting sun inspired the Bishop's XI (or was it the episcopal team talk?) and Jez Barnes and Joe Moffatt stormed into the attack with runs coming freely – several boundaries and a couple more 6's, one of which threatened a car's windscreen – until Jez retired "hurt" on 36, tactfully giving way to his Captain Bishop to come in. Moffatt however was unstoppable and having reached 54 with only 2 runs needed for victory, managed to completely miss the ball and find himself out, stumped, leaving Bishop Graham to hit the winning runs. So 116 for 2 and with 4 overs to spare.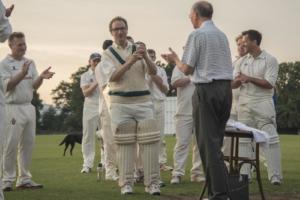 TCC's president David Holland presented the Teddington 800 team with the eponymous engraved trophy and announced that this fixture will now be an annual one – pencilled in for July 2018.