Bidding Fond Farewells
This July, we bid very fond farewells to two much-loved and respected characters in the education of Teddington Parish's children.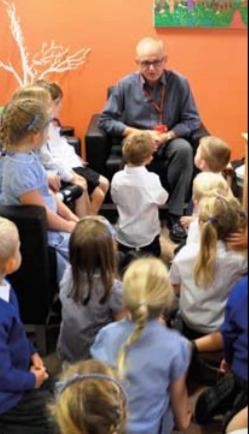 Malcolm Eady, Foundation governor at Hampton Deanery, writes: 'In January of this year John Logan, the head teacher of St Mary's and St Peter's CE primary school, informed the Governors that he intended to retire in July. This gave the Governing Body ample time to find a new head, and we are extremely lucky to have appointed Ms Helen Swain, an experienced and talented head teacher, currently in charge of a Kensington primary school.
So with a touch of sadness, we can reflect on John's considerable contribution to the growth of the school, to which he has given 18 years of dedicated and expert leadership. When he joined it had just expanded, and he saw pupil numbers rise from
210 to 420 children. The school then received a generous legacy, and he and the governors used the money creatively to create a marvellous library and resource area. By 2011 there was again a shortage of places, and his firm negotiations with the Council ensured the school obtained a new hall and classrooms, which increased the roll to 630.
In so many ways he has made the school what it is today, and I know that he will be missed by all. After two terms in post there was a full Ofsted inspection. The school was graded Good. Five years later it was graded Outstanding. The school is also inspected by the Church authorities (SIAM) and their last report in 2018 graded the school Outstanding. In 2019, the school results put it in the top 250 schools in the country.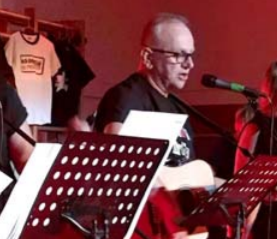 For John it has not just been about academic success, as there have been awards in art, music and sport demonstrating the rich learning environment. He will be leaving a school, which has a strong management team, great staff and happy children. It has been a pleasure watching his rapport with the children, his support and development of staff and his championing of the school with Inspectors and the local authority.
For some parents the highlight of the year has been the annual "The School of Rock" concert, where John was the front man of "Johnny and the Logans", the staff rock band. For the pupils their highlight is probably the week they usually have in Year 6 when he has accompanied them on a week's trip to the Isle of Wight. John's personality runs through the school, and I am sure there are thousands of children who have enjoyed their school days under his care. We wish him a long and happy retirement.'

The time has also come to say goodbye to a much-loved figure for the families of Teddington as Sally Allen, the Playleader at Playwam Preschool, prepares to retire at the end of this term.
Nadia Prince writes: 'Sally's journey with Playwam started with her own children attending the preschool, and soon after in 1996, she started helping out as a volunteer. She went on to take an early years teaching degree, and assume leadership of Playwam, which she has run efficiently and lovingly ever since.
Parents know that leaving your child in any childcare setting for the first time can be a daunting, but somehow the assurance, experience and kindness of Sally and the 'Playwam Ladies' makes it much less difficult. I have watched my own children. Two godsons and countless of my friends send their children into Sally's care at Playwam and thrive. The consistency of care, structured learning, and hours of creativity and fun under her guidance has enabled many young children to grow into their strengths, and really explore the things they love. No two children are treated the same way on Sally's watch, and as a parent you are welcomed into the Playwam world and involved in their entire journey.
Under the leadership of Jenny Hunt, Playwam will continue to be an incredible resource for Teddington families. Sally will
be greatly missed, not only by the children, but also by all the parents she has supported and the other 'Playwam Ladies' who consider her a true friend. We all wish Sally a wonderful retirement, and extend our sincere thanks and love to her for her years of dedication to all Playwamers.