Attend Talks on Thomas Traherne's Poetry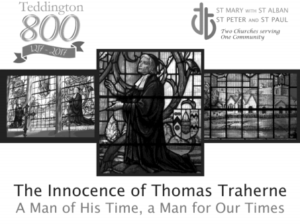 St Mary's Parish Hall will host talks on the poetry of Thomas Traherne at 2pm on Saturday 14th October.
Entitled 'The Innocence of Thomas Traherne, A Man of His Time, a Man for Our Times', speakers will include Dr Beth Dodd, Traherne Scholar at Sarum College, Rt Rev & Rt Hon Lord Richard Harries, theologian, writer and broadcaster as well as local poets inspired by Traherne.
Tickets can be booked at www.teddparish.eventbrite.com.