Joyous Jubilee Celebrations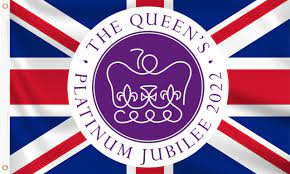 We held two Jubilee celebrations on Sunday 5 June, to celebrate Her Majesty The Queen becoming the first British Monarch to reach a Platinum Jubilee after 70 years of service. Twelve-year-old Esme Goulbourn provided this account of the day:
"The Jubilee service was a joyous way to celebrate the Queen's seventy years on the throne. The rain held off and there was excitement in the church. Many people attended, including the Brownies, Rainbows, Scouts, and Guides, the RNLI, the Royal British Legion, Deputy Mayor Rhi Lee, and Munira Wilson, our MP. The choir was packed with singers.
Everybody in the congregation wore their best clothes and the church was decorated with pretty flowers. Everything the clergy wore was also beautifully decorated.
There was a procession into the church with the crucifix and candles followed by those with flags. The servers then stopped in the middle of the church and received the flags. It was lovely to see everyone coming in with flags to honour the Queen. We sang hymns such as Jerusalem, I vow to thee my country, and You shall go out with joy. Two Scouts read a lesson each. Joe did a special sermon for the occasion where he spoke about the main aspects of Christianity. He thought the most important things were turning up to be with people,
taking an interest in them, and following Jesus.
After the service we processed into the churchyard, where there were two new quince trees ready to be planted. The Queen wanted a Green Canopy for the Jubilee. The Deputy Mayor and Robin came forward and read a passage from the Bible. Then the Deputy Mayor planted the trees with a new silver shovel. Everyone enjoyed the occasion.