Community Cafe Open Monday Afternoons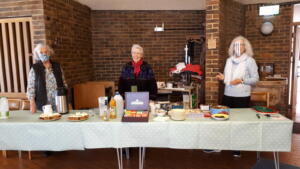 We are delighted that our Teddington Community Café remains open every Monday afternoon, including Bank Holidays. Why not come along to enjoy a warm welcome, a chance to chat, quality hot and cold drinks and delicious home-made cakes?
The café is there for everyone but, we hope, will appeal particularly to those who feel isolated or anxious as a place where they can find sanctuary, enjoy a friendly chat and find out about local community activities and services. Initiated by Teddington Parish, in partnership with local NHS Primary Care Networks and disability charities, Ruils and Richmond Aid, the café hosts local social prescribers and their clients.
Opening hours: Mondays 1.30-4.30pm
Location: Peter & Paul Centre, Church Road, Teddington TW11 8PS
Contacts: Clare Rider, Sarah Rae and Lisa Dobinson
Email: communitycafe@teddingtonparish.org