Churchyard Service on Palm Sunday Features on BBC Breakfast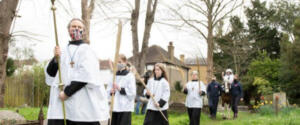 It was fantastic for the clergy and congregation to be together in the churchyard on 28 March, Palm Sunday. Relaxing rules allowed for congregational singing and we were joined as usual by Park Lane Stables for a re-think of our annual donkey procession.
Featuring on BBC Breakfast News and Teddington Nub News was an added boon with both stories reflecting the inclusive nature of the Teddington Parish community.