Vicar's Viewpoint November 2017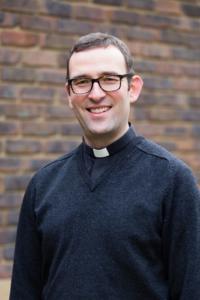 It's been an amazing few weeks as we've spun from one Teddington 800 event to another. I've felt that they've all been enriching for our community and uplifting for the soul: the Songs of Praise service brought all the churches together and lifted the roof with wonderful singing; the 800 Ball was the most glamorous and fun-filled evening I've ever experienced in Teddington; and the Science and Religion Lecture and Traherne Talks and Concert were hugely stimulating.
Through all the 800 events, it has been our aim to provide a celebration of all that is good in our past and present, to build up relationships within our town and to create new partnerships for the future that bring a blessing to all in our community. It is essential that this includes the most vulnerable in our society. Our big events will have a hollow ring to them if we are not also reaching out to those who most need our hospitality and companionship.
That is why I'm delighted that we're embarking on two new initiatives. The first is a Memory Café, set up for people who may feel very isolated and lonely in their own homes. In particular, it will cater for people living with any form of dementia or memory loss, and for their carers. It will provide a friendly, welcoming space with lots of volunteers to talk to. Carers will be able to meet other people in similar situations to them. And there will be lots of cake, plenty of memorabilia, and some good old songs to sing along to. The Café starts this month, on the first Tuesday at St Peter & St Paul and on the third Tuesday at St Mark's. Contact Sarah Williams for more information and if you're interested in volunteering.
The second initiative is a Winter Nightshelter. Churches across our borough have noticed a steep increase in people sleeping rough. So we've approached a charity called Glass Door to help us set up a Nightshelter circuit that involves seven churches around the borough hosting for one night a week. Glass Door have many years' experience of doing this in other boroughs of West London so can provide a tried and tested service that works well for both guests and churches alike. We are actively considering the opportunity to host the Nightshelter in St Mary's Parish Hall on Sunday nights from January-March next year.
It will accommodate up to 15 guests, from 8pm to 7am, serving a hot supper and then a simple early morning breakfast. We will need a large volunteer team to help on Sunday evenings from 6-10pm and then some early birds for 6-7.30am on Monday mornings. If you are interested in helping, please contact John Mulcahy.
We hope that these are just two of the ways in which Teddington 800 will leave a legacy of compassion and generosity.
Best wishes,
Rev Joe Moffat