Vicar's Viewpoint July 2023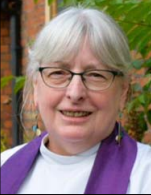 'Are you off on holiday this year?' That phrase peppers most of the conversations I have at the moment. TV adverts remind me that it's not too late to bag a bargain break in Turkey, head off on a cruise, or get active at Center Parcs, and they tell me where I can get my Factor 40 or Imodium (just in case!).
July and August are peak get-away months in England. We all feel the need for change – to escape the everyday (if only for a long weekend) and find some rest and refreshment from the daily grind of life. For some, it's refreshing the mind with new sights and sounds and experiences, for others it's refreshing the body with time to languish on a beach, by a pool or in nature.
But what about the inner being, our spirit? How is that refreshed alongside bodies and minds? 'Holiday' has its origins in the Old English haligdæg 'holy day, consecrated day, religious anniversary;
Sabbath'. It was a day when work stopped to mark a Holy Day – a day with spiritual significance, giving a chance to refresh the spirit. For some, meditation, yoga or being in nature offers the chance to consider the inner being. For Christians, prayer and being mindfully in the presence of God gives the opportunity for our souls and spirits to breathe – to be revived. It's as important as refreshment for our bodies and souls.
Every day, our church of St Mary with St Alban is open. Whatever your faith or beliefs, you are welcome to come and sit enjoy the quiet and cool that it offers. Give your inner being a few moments to settle in a place where prayer has been offered for centuries. So whatever exciting plans you have for the summer, whether with family, friends or on your own, take a mini-holiday for your spirit as well – not just this month, but whenever you pass by. You will always be welcome.
Mary Hawes