Curate's Comment June 2017
Most of you reading this will know that 'Thy Kingdom Come' is the third line in the Lord's Prayer, which is the prayer that Jesus taught his followers to pray each day. In the week leading up to Pentecost (4th June), the Archbishop of Canterbury, Justin Welby, is asking Christians to join together to pray 'Thy Kingdom Come'.
The Archbishop says, "In praying 'Thy Kingdom Come' we all commit to playing our part in the renewal of the nations and the transformation of communities." See here for more details.
At St Mary with St Alban and St Peter and St Paul, we take seriously the Archbishop's call to be a blessing in our communities and to share Christ's love. It's one of the reasons we are excited about Teddington 800 and celebrating with the community.
The Archbishop's call to prayer comes from a recognition that prayer and sharing faith go hand in hand. This is why our churches are engaging with Ambassadors which I have written about in previous newsletters. Each month we have introduced a short interview with a different member of our congregations, asking what they will be doing 'this time tomorrow'.
As well as hearing about what the person's month looks like, we also have the opportunity to pray for them as they live out the Christian faith in very different contexts.
We do this because we believe that being on a journey of personal discovery with Jesus makes a difference to our lives. In light of this, we want to play our part in praying 'Thy Kingdom Come'. This will take varying forms. The two churches will be hosting a day of prayer on 1st June:
Morning Prayer at 9am at St Peter & St Paul
Lunchtime Eucharist at St Mary with St Alban at 1pm
Healing service at St Mary with St Alban at 8pm, with the focus 'Thy Kingdom Come'.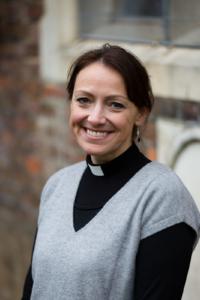 From 25th Mary to 4th June, St Mary with St Alban will be open for prayer. There will be a basket on the side altar in which you can put names of people for whom you commit yourselves to praying for, and these will be lifted in prayer in the Pentacost services on 4th June. We hope you will join with us in praying 'Thy Kingdom Come'.
Gabby Thomas