Clergy Comment September 2017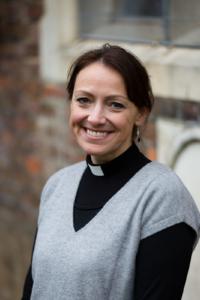 In June 2015 Matt and I moved to Teddington so that I could begin my curacy at St Mary with St Alban Church. During these past few years, I have learnt far more than I could put into a short article.
I'm extremely grateful for all the new experiences and for generous congregations at SPSP and SMwSA who have given me the space to be myself, whilst I began to work out what it means for me to be ordained.
Alongside the curacy, I completed a PhD in theological anthropology, which was also rather an adventure. Sadly, 24th September is my last Sunday here in Teddington, because in October I begin a post-doctoral research position at Durham University.
The post is funded by the Catholic Church and is concerned with learning about the experiences of women in UK churches.
I've been really encouraged watching the way the Church and community relate to one another here, because in many ways there are no real separations between them. This is not the same in every place across the UK; for me, it makes Teddington very special and also a generous and easy place to learn to be a vicar.
The local community groups, charities, businesses and schools receive us with open arms; I've had so much fun doing assemblies at SMSP, running the after school club 'Think Aloud' at Turing House, teaching about Ecumenism at Waldegrave, being involved with myriad school concerts and even being a Genie in a panto!
It's been very inspiring to be part of the celebrations for Teddington800 and the way in which the whole community is commemorating that we are part of something bigger than ourselves. It's a constant reminder to me that we all have a vital part to play in sharing Christ's love with our communities.
People have been doing that for 800 years before us and I pray that they will continue for another 800 after we are long gone.
So, as I move up to the North East (yes, I will be buying thermals!), I go giving thanks for all that God has done here in the parish and am particularly thankful for the small part that Matt and I have been able to play here and for the incredible people who have welcomed us into their lives.
Blessings on you all,

Gabby Thomas