Clergy Comment January 2022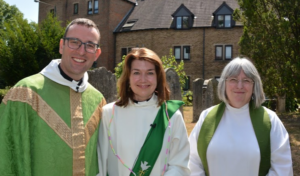 I wonder how many of your Christmas parties were cancelled? The uncertainty of 2021 is rolling over into 2022 and we now know that Covid is not about to vanish, but we need to find ways to live with it as safely as we can. Despite this shaky start there has been huge progress. The vaccination programme, which this time last year was only just beginning, means that far fewer people are becoming critically ill and this is something to celebrate.
Sometimes life challenges us to look for the positive when we're surrounded by news and experiences which are hard. We want to both acknowledge the uncertainty and struggle, but also be able to celebrate all that is good and life affirming. I think the glass half full or empty saying is unhelpful, few of us are either or. The seasons of life and the seasons of the year understandably affect us in different ways at different times.
Christmas is over, but its message of God sharing in all that it is to be human continues as we turn towards Easter. To help us on our way, one of the first Biblical stories of the New Year is the Wedding in Cana, where water is changed into wine. We learn how Jesus's presence transforms ordinary experiences into something extraordinary, and so gives a different perspective on life.
As we begin 2022, I hope that despite the mixed news, that we can find ways to celebrate the good that is around us. And that very soon the parties will begin again, although unlike the feast in Cana, perhaps we won't be holding back the best wine until last….
Revd Caroline Halmshaw