Vicar's Viewpoint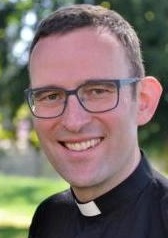 With so many events being cancelled over the summer, it was a great delight to do three weddings in quick succession at the end of August and start of September. Thirty guests were allowed at each service and although facemasks had to be worn by all but the happy couple, it didn't seem to impinge on the joy or elegance of the occasion. In fact, there was something about choosing to get married in such adverse circumstances that made the ceremonies all the more significant and profound. These couples were saying there was nothing more important than getting married, regardless of whether they could have a big party.
Inspired by them, I want to make a plug for church weddings. It is a common misperception that only regular churchgoers can get married in churches. Not true. Anyone who lives in our Parish or has an association with us can get married in our church. And we love to find a reason to say yes to anyone who asks. This is because we are confident that churches offer some things that are 'over and above' most other venues.
Firstly, there is a relationship formed with both the minister and the church community that will continue after the wedding, and be a source of support for years to come. Secondly, there's the beauty of the buildings that provide the setting for some very special lifelong memories. Thirdly, there is the faith element, enabling couples to make their vows in the bigger context of God's love for all creation.
So my message is: JUST ASK! We are happy to consider all requests, and we do 'big and bold' as well as 'small and simple', and everything in between. Weddings need not be expensive or stressful – just ask and we'd love to help.
Best wishes
Rev Joe Moffatt