Six-yearly Electoral Roll Called – Please Complete and Return by 18 March 2019
Every six years, we are required to compile a completely new Church Electoral Roll, with the old one cancelled and deleted. We would like to encourage everyone to take part.
The Electoral Roll is a list of all our members who either live in the parish or who have habitually attended worship in the past six months. When this renewal process begins, everybody's name is removed from the old Electoral Roll. It makes no difference how long one's name has been on the Electoral Roll in the past. Everybody must fill in a new application form to have his or her name entered on the new Roll.
The list is very helpful for our ongoing parish ministry, and the statistics from parish electoral rolls also help the diocese and national church to calculate church attendance (and in London, at least, report the good news of church growth).
Joining the Electoral Roll is a way of saying that one not only belongs and is committed to the Church here in Teddington, but also to the Church as a whole.
'Application for Enrolment on the Church Electoral Roll' forms are available:
at the back of Church
from the Parish Office
by clicking on the image below, downloading and printing: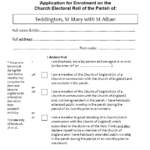 Please complete as a hard copy, but once completed they can be scanned back to us, or returned to Church or to the Parish Office.
In addition, under new GDPR legislation, we need your consent for us to keep in touch with you about our church services, news, events and activities. Please download, complete and return the form below at the same time.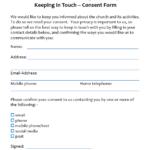 Many thanks,
Rev Joe Moffatt