New Worshippers to Submit Electoral Roll Form by 11 April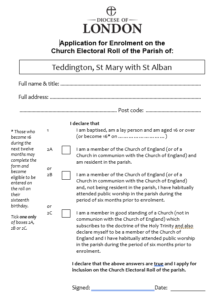 Teddington Parish's Electoral Roll is being updated and new worshippers, those who have moved to the Parish or changed their name or address in the last year, have until Monday 11 April to submit their form.
The required forms are available at the links below or at the back of the church. Please complete both - to be GDPR compliant, we need your consent for us to keep in touch with you about our church services, news, events, and activities - and either scan and email back to parishhall@stmarywithstalban.org or return in hard copy to the Church or Parish Office.
Please note that if you completed the form in 2019 or 2020, you do not need to do so now.