New Vicar Announced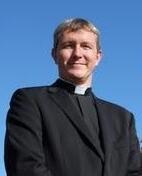 We are delighted to announce that our new incumbent is the Reverend David Cloake, who has been vicar of St Philip and St James, Whitton for 11 years and priest in charge of St Stephen, Hounslow for 3 years.
Currently, nine months into our interregnum - the period of time between one parish priest leaving and a new parish priest being appointed to fill this vacancy - the re-wiring of the vicarage is complete and a new kitchen is being installed. We are working with David and his wife Jo, to have everything ready for their arrival which is eagerly anticipated sometime in August.
David's Institution Service is planned for Monday 11 September.
In the meantime, we continue to be blessed with a strong clergy team, which enables us to maintain our regular pattern of worship, mission, and pastoral care.
This interregnum has afforded this parish a unique period of time for us to pause, to listen, to discuss and to pray in faith together.
Carla Maroussas, Senior Churchwarden