Vicar's Viewpoint June 2022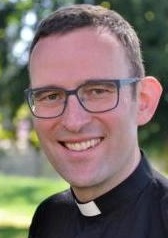 For the Queen's Diamond Jubilee we commissioned new oak-framed glass doors. I was hoping that for her Platinum Jubilee we might have a complete extension. Sadly, we haven't quite got there (although our plans have now been submitted). But we do have two trees to plant as part of the Queen's Green Canopy initiative. We hope that this will be a fitting legacy for such a remarkable landmark occasion. Will 70 years ever be surpassed?
Just as important is honouring the occasion with social events and community celebrations. It's great to hear about lots of street parties. We're also pleased to be involved in the 'Picnic in the Park' organised by the Rotary Club. This is on Saturday 4th June from 12-6pm in Udney Hall Gardens. Come and enjoy live music, a family treasure trail and lots of stalls.
At the church, we want to frame the celebrations with two special services. The first is a formal Service of Thanksgiving on Sunday 5th June at 10am. This will be attended by the Deputy Mayor and all our uniformed organisations and include choral music from the Queen's coronation. It will finish with the tree planting in the churchyard. The second is an informal Songs of Praise with Prosecco on the same day at 6pm. This will happen in the churchyard (weather permitting) and give everyone a chance to sing some well-known classics as well as toasting Her Majesty with some bubbly. More information is here.
Best wishes,
Revd Joe Moffatt