Vicar's Viewpoint January 2020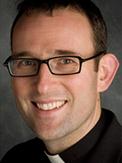 Sort the house out, get fit, make new friends and reflect on life's big questions. These may sound like classic New Year resolutions that we make as individuals, but they happen to be our 2020 church aims as well.
Sort the house out: this refers to our Extension Project at St Mary with Alban. In 2018 we had to withdraw our planning application and go back to the drawing board. We've now got a new and improved scheme that we'll be sharing with you soon. Watch this space.
Get fit: this refers to our proposed new sports ministry that we've been calling Bushy Active. We've been consulting with neighbouring churches, sports clubs, schools and community organisations to see what forms of engagement might work best. We'll be making a plan, based on the feedback, in the next couple of months. By the summer we'll be all set to promote fitness in both body and soul.
Make new friends: this refers to our plans for opening a new Community Cafe at St Peter and St Paul. We're in discussions with local health and social service providers to create an attractive cafe in the church. This will become a hub for people to connect with community groups and services, as well as with each other. We aim to get this up and running at least one day a week by early summer.
Reflect on life's big questions: this refers to our talks and courses. At the end of this month we have the first of this year's Supper Talks 'Say Yes to Life' by Ruth Valerio, Tearfund's Advocacy Director. Ruth's book by the same title has been chosen by the Archbishop of Canterbury as his recommended Lent reading for 2020, so she has star billing. Also this month we start our Alpha course for those who wish to explore big questions and find out about the essentials of the Christian faith. This is a course that has worked well in thousands of churches around the world and has recently been re-edited with a series of new films. I'm excited to try it here for the first time.
As an individual my personal New Year resolutions have a habit of being dropped and forgotten by the end of week three. Thankfully, when it comes to our church aims, I have a fantastic group of committed and gifted people to work with and I trust that, by God's grace, we will make them happen.
Best wishes,
Joe Moffatt