Final session of 'Understanding the Bible with Joe Moffatt' 22 October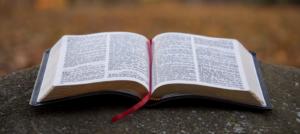 We all need help to understand the different narratives, genres and contexts of each book of the Bible. I therefore want to offer talks this Autumn, which will hopefully give a useful framework for how to handle the Bible. I want to offer a personal perspective, outlining the approaches I find most helpful and the things I find most fascinating.
The first session was in the form of a Supper Talk: 'Seeing the Bible as a Library' on 17 September; the second a Talk on 8 October entitled: 'Understanding the Old Testament'; and the third a Talk on 15 October entitled: 'Understanding the New Testament'. You can view the notes and listen to the talks here.
The final session will be an 8pm talk on 22 October at St Mary's Parish Hall on the topic 'Not a book for bashing – using the Bible wisely'.
All are welcome and no booking is necessary.