Join Us for Christmas Services and Events
We welcome all in Teddington Parish at Christmas. Please join us at the following services and events and note the following arrangements to accommodate demand for space at the Christmas Eve Crib Services: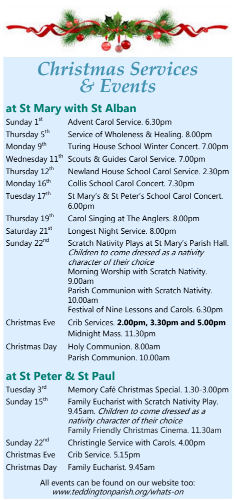 Nothing pleases us more than to see St Mary with St Alban full to bursting three times over for our ever-popular Crib Services on Christmas Eve. There's a real sense of Teddington coming together as a community to celebrate this great festival. And the carol singing raises the roof in a wonderful way that lifts everyone's spirits. Our only concern is about capacity and comfort. Just as we tell the story about an overcrowded Bethlehem and 'no room at the inn', so there is literally no room in the church for those arriving only five or 10 minutes early, particularly for the 5pm service. A few years ago we added an earlier 2pm service to our regular 3.30pm and 5pm services. But this has simply enabled more people to attend and hasn't reduced the numbers at the later services. So this year we're making some additional arrangements. We'll still fit people into every available seat and space, but we need to keep the gangways clear down each aisle and in the chancel. When we reach capacity we'll then offer two
alternatives.
Firstly, there'll be a sheltered area in the churchyard at the back of the church here one of the clergy will run an outdoor version of the service. This will have the added excitement of a 'live' nativity with human actors and specially-made lanterns for those willing to wrap up warm and join in a very traditional carol singing scene.
Secondly, there will be an additional Crib Service up the road at St Peter and St Paul (on the corner of Broad Street and Church Road) at 5.15pm – same service, same carols, just more comfortable seating and less crowding. We hope these arrangements will enable everyone to be suitably accommodated, just as Mary and Joseph were given a welcome space 'round the back'.