Help Re-build Mozambique School Through Lent Appeal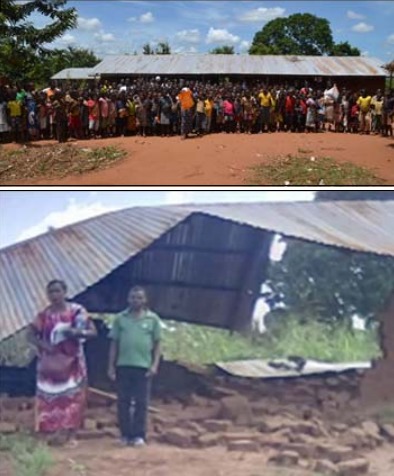 This time last year I visited our link parish of Pemba in the far north of Mozambique. One of the highlights of my trip was visiting the only Anglican church school in the region. This was a primary school in a remote village called Chimoio. Much like our own school (St Mary's and St Peter's) it had 700 children, but in most other respects it was very different. It had only had 7 teachers and 3 classrooms, so the children were split between morning and afternoon classes. They were very proud of the three classrooms which had been newly built, since before then the lessons were all taught under a tree.
A month after my trip, Cyclone Kenneth hit the region causing massive wind damage and flooding. The walls of the new school building were swept away in the floods, leaving a twisted roof. The villagers were greatly affected, losing homes and harvests. Thankfully, church workers provided emergency food and people have been rebuilding their homes.
The school has reopened but they are having to function without buildings, working once again with lessons under the tree. Now the local church would like to rebuild the school. This will cost something in the region of £20,000. St Mary's and St Peter's has made a terrific start and at a recent assembly I was presented with a cheque for £5,000. Some of this came from donations made by parents and visitors at the Harvest and Christmas events, but an incredible £3,026 was raised by Year 6 (see Year Six Grow a Pound on next page).
Our Lent Appeal this year will aim to double the SMSP total, raising another £5,000. We hope that the rest of the
money needed will come from grants. If you would like to donate, please contribute by:
Cash or cheque (to 'PCC of St Mary with St Alban') in a yellow gift-aid envelope that can be found in church, writing LENT APPEAL on the envelope.
Bank transfer to Account name: PCC St Mary with St Alban; Sort code: 40-52-40; Account number: 00032911;
Reference LENT APPEAL. Joe Moffatt