Clergy Comment November 2021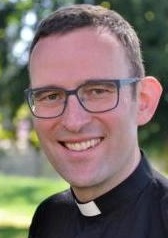 I'm delighted to share the new plans we have for what we're calling 'Building Anew'. Regular readers of this newsletter may well be thinking that it's been a long time since we last updated you on this important topic. My apologies for the silence. But we've been working very hard behind the scenes to develop a new scheme with our architect. And we now feel very confident that this not only meets our needs but enhances our historic building and the way it relates to the beautiful churchyard around it.
Covid has made us all the more aware of the need for connection. Our church has always been a wonderful place to connect with God. But it should also be a place to connect with one another in our community. To do this well we need the facilities to support good, lengthy connection time: a kitchen to serve drinks from, a space to meet and chat and, not least, some toilets. Our recent series of events for 'Love Your Burial Ground Week' showed the potential for great connections with talks every day and 350 school children spending time in our grounds. But it required us to hire two ugly portaloos and we'd have really struggled if the weather hadn't been so favourable.
So I commend the plans to you. You can read about them here and we welcome your thoughts on them at future@stmarywithstalban.org. I believe they will be truly transformational, not just for our building but also for the way we connect with one another. Building Anew is about relationships as much as bricks and mortar. And after Covid has taken its toll in so many ways, we need this more than ever.
Best wishes,
Rev Joe Moffatt