Mozart Mass in C Minor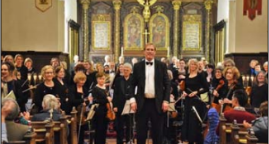 It is hard to find words that do credit to the superb performance we were privileged to hear on Sunday 8th March. On entering the forecourt of All Hallows Church, Twickenham, we were greeted with beautiful bell ringing that came from the Christopher Wren tower. It was interesting to learn that the tower, bells and many of the interior furnishings were transferred to this site in 1939 from All Hallows, Lombard Street, and integrated as part of a new church designed by Robert Atkinson.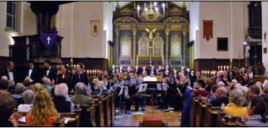 At St. Mary with St. Alban's Church we have long been spoiled by the beautiful music our choirmaster, Derek Saunders, produces every Sunday morning with our singers and organist, but what we heard on Sunday really was something else. Over 60 singers from Teddington Churches' choirs, with 36 instrumentalists led by Janet Smith, and five wonderful soloists, performed a thoughtfully arranged programme of works by Monteverdi, Gabrieli, Allegri, Handel, and finally the great Mozart Mass in C minor.
This was composed for his new wife Constanze. The Mass was conducted by Derek with great musical sensitivity, with all musicians performing expertly, and this with only one full rehearsal on the day they performed.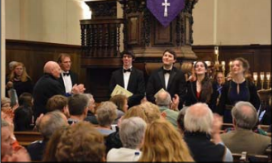 The evening raised about £1,100 for Momentum, a charity that helps families with children with cancer. Thank you to all the musicians for offering their time, to Joe Moffatt for offering St Mary's Church for rehearsals, and to Kay Cassidy for doing most of the organizing, as well as all the volunteers who helped on the day. I feel very grateful to live in a place where so many talented people come together to organize events that give such joy, and support a good cause. I am looking forward to the next concert.
Karin Mayhew