Vicar's Viewpoint May 2022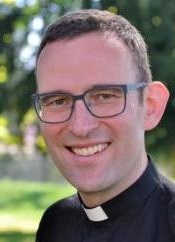 It's been heartening to hear about so many Teddington folk offering a home to Ukrainian refugees. If only the UK government could match this generosity with some efficient cutting of red tape. But let's hope that many of these offers will be taken up soon and some new friendships created. Hospitality has a tendency to enrich the host as much as the guest.
As we continue to respond charitably to the plight of Ukrainians, let us also be mindful of the ongoing conflicts and suffering in other parts of the world. It's important that our awareness of one war helps raise our awareness of all wars. We must not forget the people of Syria, Yemen, Afghanistan, South Sudan and Ethiopia. And particularly close to my heart is the situation in Northern Mozambique where half a million people have been forced to flee their homes due to a terrorist insurgency.
It's easy to assume that the war in Ukraine has led to 'compassion-fatigue'. But I was greatly encouraged by the response of parishioners to my 'Miles in March' appeal for Mozambique. Having run 85 miles during the month (including the Hampton Court Half Marathon with my colleague Chris Kennedy) I was delighted to raise £2,335 in sponsorship which will be sent to our link diocese to use in their frontline emergency relief work.
This parish has a strong tradition of supporting Christian Aid Week (15th-21st May). So please look out for those iconic red envelopes that will be posted through your letterboxes. This year the focus will be on supporting families in Zimbabwe who are suffering from drought and climate change. Your donations will help to provide drought-resistant seeds, water
taps and other essential resources. Thank you for keeping your hearts open and remaining generous.
Best wishes
Rev Joe Moffatt