Vicar's Viewpoint May 2020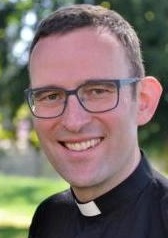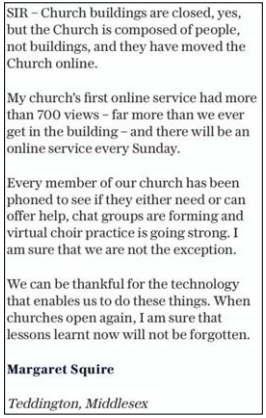 Having recorded numerous sermons and podcasts recently, I feel you've heard more than enough from me. So I'm delighted that this newsletter is full of interesting articles and opinions from others.
I'm also very grateful for the positive feedback we've been receiving about the new things that we've been doing. This has even got into the national press – see the letter from Margaret Squire that was printed in The Daily Telegraph and again in The Week. Well done Margaret for flying such a positive flag amidst all the fuss that was made about keeping churches closed.
One thing I was looking forward to in May was a big service to mark the 75th anniversary of VE Day. We had lots of drama lined up (thanks to our wonderful playwright Cathy Randall) which will now have to wait until later in the year. But she has collected some stories from our oldest members which you can enjoy here.
We'll keep going with our recorded services, Zoom coffees, audio podcasts and the like. But how we long to get back to church and to see you all face-to-face. Will the lifting of restrictions feel something like VE Day? Let's hope and pray that it won't be too long.
Reverend Joe Moffatt