Vicar's Viewpoint March 2022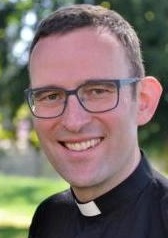 In July 2020 we appointed Rev Chris Kennedy as our Pioneer Sports and Wellbeing Minister, based at St Peter & St Paul. Since then he's been steadily growing a new ministry called Activate. This hasn't been easy to get off the ground during the Covid pandemic, but it's now really starting to take shape.
Activate is focusing on three priorities:
A weekday Wellbeing Hub, based at St Peter & St Paul. Each day of the week there will either be a drop-in event (eg Community Café on a Monday) or a social exercise class (e.g. Soup and Stretch on a Thursday) and a short midday service that Chris is calling Abide.
A Sunday afternoon Sporty Church, based at St Mark's Teddington. This will be starting in May and will involve 30 minutes of exercise, 30 minutes of worship and 30 minutes of refreshments. It's hoped that people of all ages and abilities will participate but with a particular focus on young people.
A Friday evening Youth Café, based at St Peter & St Paul. This again will be starting in May and will build on the work that Activate has already been doing with disadvantaged young people from some of our local schools using a programme called Mindful Ninja that combines martial arts and mindfulness.


Some funding is already in place for this, but Chris would love to appoint a Youth Worker with streetdance expertise to engage young women in positive activity. This has been identified as an urgent priority in our local community. Please see his article here. Our Lent Appeal therefore aims to raise £3,000 for this post. We're calling this Activate Dance. Please donate online: www.activatechurch.org.uk using the red button. All donations to Activate in March and April will go to this appeal. You can also give cash using our yellow envelopes and writing 'Activate Dance' on the top.
Many thanks for your generosity towards this exciting initiative.
Best wishes
Revd Joe Moffatt